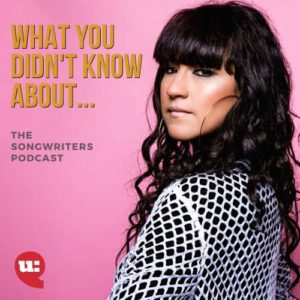 There are now four episodes of Louise's brand new podcast produced by Unedited – where she talk to the UK's top songwriters about their songwriting techniques, their music careers and meanings behind their most well known songs.
Her guests in this series have been Ivor Novello winning songwriter Michelle Escoffery (Liberty X, Artful Dodger, Tina Turner, Damage), UK Soul Legend Omar (Stevie Wonder, Angie Stone, Common, Leon Ware), Mary Leay – who has worked with Cher and is behind the massive dance hit Piece of Me by Becky Hill & Mk – which has over 95 million streams on Spotify and her latest guest is Grammy winning songwriter Rob Davis who she is also currently working with.
Rob Davis started as lead guitarist in the 70's Glam Rock band Mud and then became a hit songwriter behind huge songs such as Can't Get You Out Of My Head for Kylie Minogue, Toca's Miracle for Fragma, Groovejet for Spiller / Sophie Ellis Bexter, It's Not Over Yet for Grace/ Klaxons and has written tracks for Rachel Stevens, Enrique Inglesias, Holly Valance and Danii Minogue to name a few.